Homecoming 2017 to feature comedian John Crist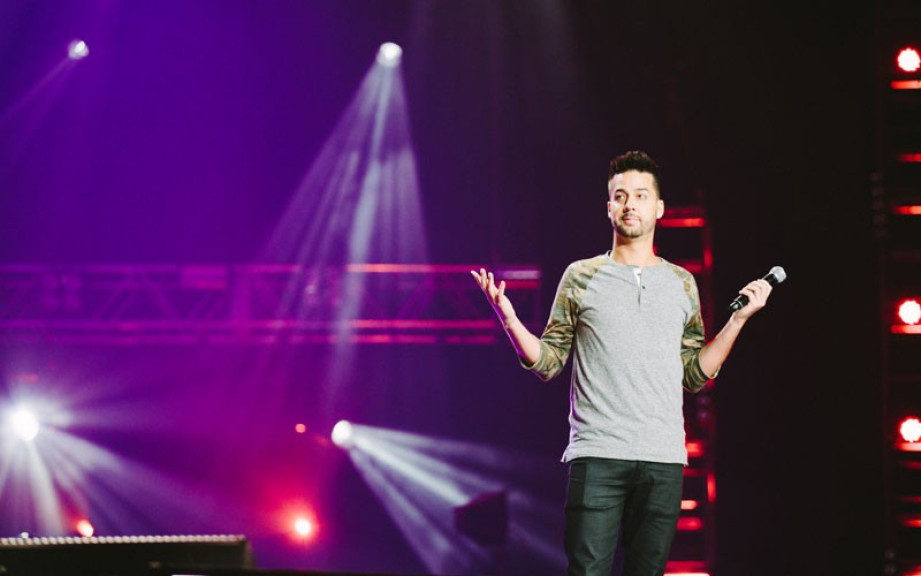 FOR RELEASE: Monday, September 25, 2017
John Crist: Live! will be coming to Huntington University's Homecoming 2017 weekend on Friday, October 6, at the Merillat Center for the Arts.
Comedian and viral sensation, John Crist, has over 150 million video views and has shared a stage with renowned comedians such as Dave Chappelle, Jeff Foxworthy, and Seth Meyers. Crist grew up in a devout Christian home and a great deal of his jokes center around Christian subculture. His most popular material includes videos like "Road Rage in the Church Parking Lot," "Millennial International" and "Signs You Grew Up Christian" (featured on BuzzFeed). Crist performs in churches, comedy clubs and in theatres all across the United States. He has also found great success onYouTube and has garnered awards including Comedy Central's Top 100 Comedians of all time, and Comedy Festival's Best of the Fest. Crist has appeared on several platforms including BuzzFeed, The Adam Carolla Show, Men's Humor, TBN, Laughs on Fox, The Daily Wire and the Huffington Post.
"We are so excited to have John Crist come to HU for our 2017 Forester Homecoming. His enthusiasm and comedy will keep you laughing…perhaps even until you cry," stated Marcy Hawkins, Director of Alumni Relations. "Alumni, students, parents and the community are in for a spectacular show. Make sure to purchase your tickets today so you don't miss out on this great opportunity!"
Doors open at 7:00 p.m. and the show will begin at 7:30 p.m. General admission is $5, while HU students pay $3.Tickets are available for purchase online.
Huntington University's annual Homecoming Weekend celebration will also include a parade, king and queen coronation, class reunions, Powderpuff football games and a 5K Fun Run/Walk. HU's theater department, The Troupe at Homecoming, will celebrate musical theatre giants Tim Rice and Alan Menken by presenting selections from popular musicals such as The Little Mermaid, Evita and Joseph and the Amazing Technicolor Dreamcoat. Alpha Chi, Huntington University's Chapter of the National College Honor Society, will celebrate its 50-year anniversary, and there will be a plethora of sporting events during the weekend including soccer and volleyball matches, softball an alumni soccer game and an alumni baseball game. (Full Schedule of Events!)