HU students and faculty present research at Indiana Academy of Science Conference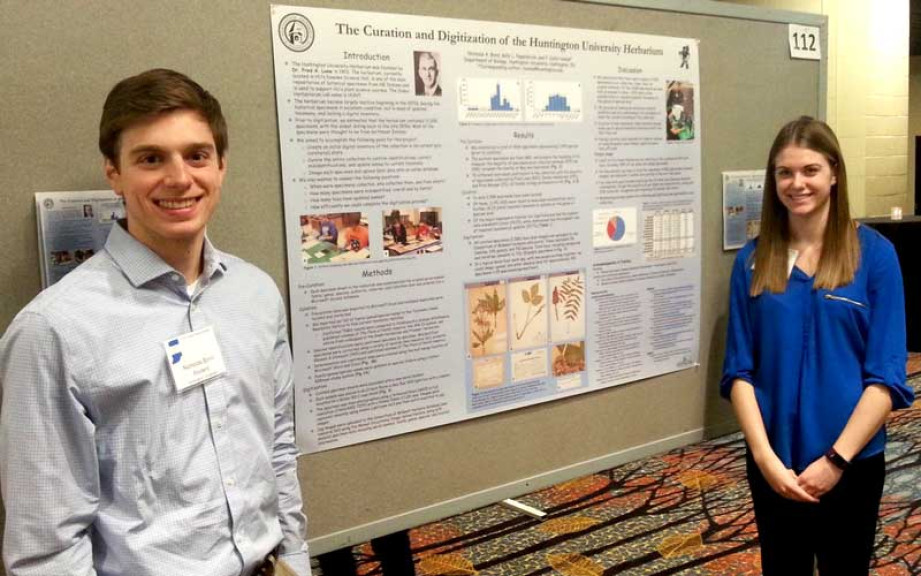 FOR RELEASE: Monday, May 8, 2017
Six Huntington University biology students and two faculty members took part in poster presentations during the 132nd Annual Meeting of the Indiana Academy of Science (IAS). The event took place on March 25 in Indianapolis.
"Our biology and chemistry students did an excellent job presenting their research at IAS. Attending a regional conference is an important first-hand experience for our students in how science is communicated. It is also good place for them to network and see what other scientists from around the state are doing. Our students' research was well received and generated some good discussion," stated Dr. Collin Hobbs, Associate Professor of Biology.
Luke Bates, a senior, Biology Pre-Med major from Willshire, Ohio, presented a poster he co-authored with Adrienne Funderburg, a junior Biology major from Demotte, Indiana entitled: "Fishing for answers: Bluegill (Lepomis macrochirus) habitat preference not related to shoreline type in a small Midwestern impoundment." For this project they studied the bluegill fish population in Lake Sno-Tip on Huntington's main campus.
Ellie Rife, a junior Biology Pre-Med major from Fremont, Ohio and Natalie Risser, a junior, Biology Education from Mc Comb, Ohio presented a poster on research they performed together entitled: "Gray squirrels (Sciurus carolinensis) prefer foraging in urbanized habitat over adjacent woods on a Midwestern university campus."
Nick Bond, a junior, Biology Pre-Med from Fort Wayne, Indiana, Kelly Piepenbrink a senior Biology Pre-Med from Fort Wayne, Indiana and Hobbs co-presented a poster on their efforts to update and digitally image the 10,000 plant specimens the Huntington University Herbarium. The data will then be shared with the Midwest Consortium of Herbaria, an online regional data portal accessible by the public and is approximately half completed. Their poster was titled: "The Curation and Digitization of the Huntington University Herbarium."
"Doing research and presenting it at IAS really helped me apply what I have been learning in the classroom. Not so much the material, in my case, but more of how professional research is presented to an audience. It has prepared me for research I may have to conduct and present in my graduate studies, which I am thankful," said Piepenbrink.
Michelle Same, a freshman Chemistry major from Huntington, Indiana, presented a poster with Dr. Ruth Nalliah, Professor of Chemistry, which was the result of several years of research in the freshman chemistry lab on the topic of which substances might most effectively degrade unmetabolized, excreted pharmaceuticals that get flushed down toilets from consumers every day. The project was supported by the Emeriti Fellows Research and Artistic Creation Fund of Huntington University, and by the provision of a proprietary catalyst from Hydrogen Link, Inc. of Canada. The poster was titled "Comparison of the Effectiveness of Hydrogen Peroxide and Sodium Percarbonate in the Catalyzed Degradation of Dyes and Pharmaceuticals."
The Indiana Academy of Science is a professional membership organization of Indiana scientists. Founded in 1885, it is a non-profit organization dedicated to promoting scientific research and diffusing scientific information; to encouraging communication and cooperation among scientists and to improving education in the sciences. For more information, go to www.indianaacademyofscience.org/.