Biology Degree Programs
There is perhaps no greater calling than that of nurturing life, and Huntington biology graduates have been answering that call for over a century.
As a biology major at Huntington, you will explore the building blocks of life itself.
Our students receive rigorous training in modern biology with particular emphasis on cellular and molecular biology and its applications. You can also expect personal attention from faculty to further your understanding of the world of biology. Working in and out of the classroom, students will gain hands-on experience through labs, internships, job shadows, and environmental studies. At HU, faith is integrated through learning in every aspect.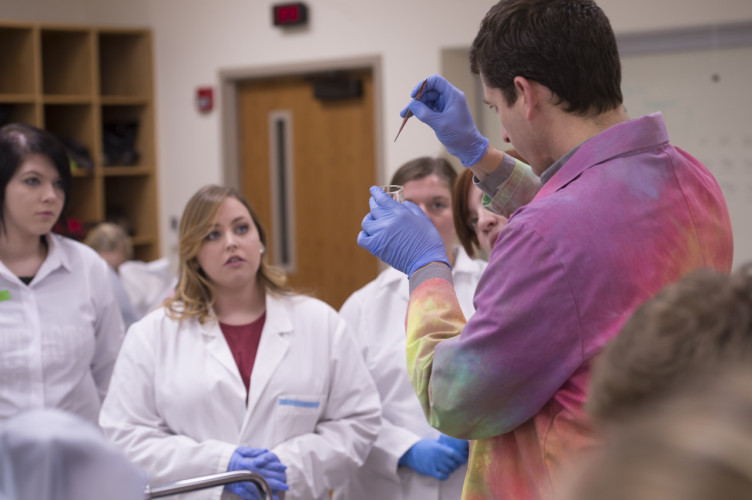 Program Options
Students in HU biology program can major specifically in Biology, Biochemistry and Biology Education. They can minor in Environmental Science and Nutrition. We also offer tracks in pre-med and pre-pharmacy.
No matter which program you choose, you can rest assured knowing that you are receiving a top-notch education. Many of our students choose to continue to graduate school to study medicine and related fields. Others move on to become teachers, physicians, optometrists, dentists, chiropractors, research associates, and many others.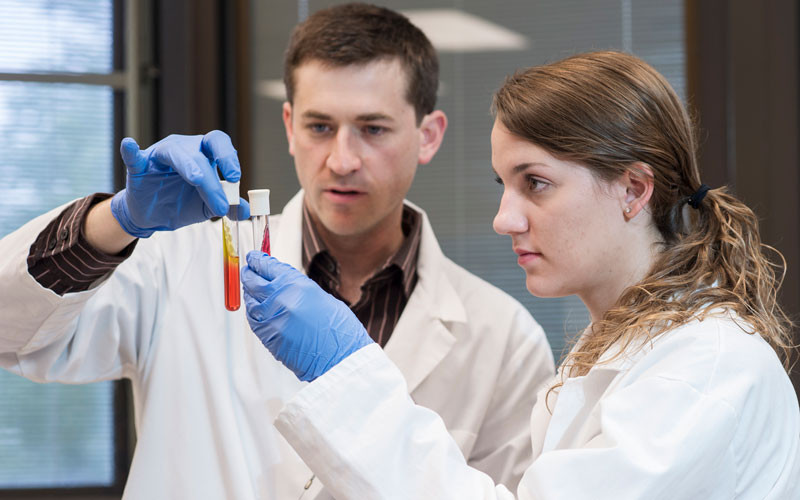 Meet The Faculty
Our biology faculty come from diverse backgrounds and areas of expertise and they are eager to impart their knowledge to the next generation of biologists!
For example, Dr. Collin Hobbs, assistant professor of biology at Huntington University, spent the summer of 2015 with two undergraduate students researching the population genetics of the white pine. His research sought to identify population variants of the Indiana white pine population and to discover where those variants originated.
Learning Opportunities
What separates a good biology program from a great biology program? Hands-on opportunities!
Students in our biology program benefit from cutting-edge labs and state-of-the-art facilities. Our science programs are housed in our 90,000 square-foot Dowden Science Hall, which offers student-friendly spaces and research equipment, as well as laboratories and multimedia classrooms. The biology department maintains four outstanding teaching laboratories that are fully equipped for classes in anatomy and physiology, botany, cell biology, ecology, genetics, microbiology, zoology, and more. Students also benefit from Thornhill Nature Preserve, HU's own 77-acre living laboratory where students can get hands-on with what they are learning in classrooms.
HU also boasts its own greenhouse and herbarium. Our greenhouse features a permanent collection of tropical and desert plants and is maintained by students and faculty for teaching and research purposes. The Huntington University Herbarium was founded in 1903, by Dr. Fred Loew, and is one of the oldest and largest herbaria of any Christian college in the Midwest and garnered national attention. Plant samples date back to the late 1800s, and the collection contains more than 12,000 specimens. Check out its listing on the New York Botanical Garden's international registry.
Interested in Plants?
So are we! That's why we created the Huntington University Horticulture Club! This club strives to be the stewards of God's creation while growing in appreciation for the intricate nature of plants of every kind.
Like Us On Facebook!