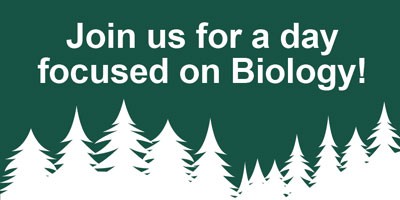 Glimpses into the molecular basis for life have caused biology to grow in scope in recent years, and opportunities in this field are also growing.
Providing knowledge that students will need about biology in the 21st century is a goal for the biology department.
Distinct Advantages
Biology prepares students for entrance into professional schools, such as medicine, dentistry or optometry; entrance into graduate school in biological fields; teaching careers in middle and secondary schools; and research and application of biology in industry positions.
Degree Options
The biology department offers a variety of bachelor's degree programs. Students majoring in biology may complete the professional major leading to a Bachelor of Science degree; the biology teaching program leading to a Bachelor of Science degree; or the liberal arts major in biology leading to a Bachelor of Arts degree. Huntington University also has a very strong pre-med program. You also have the option of pursuing a minor in environmental science and/or nutrition.
Interested in exploring all your options at Huntington University, meeting the Biology faculty, and seeing the facilities in person? Schedule a visit!
Three Huntington University biology students and two faculty members took part in poster presentations during the 131st Annual Meeting of the Indiana Academy of Science. The event took place on March 26 in Indianapolis.
Meghan Wright, a freshman biology pre-med major from Fowlerville, Mich., presented on, "Biodiversity of the Huntington University arboretum compared to a local natural forest." Her research, conducted with Dr. Collin Hobbs, assistant professor of biology, involved…
Featured Alum
Sungyoun "Shy" Han
For one alum, classes in medical school are like "drinking from a fire hose." The amount of information he is expected to absorb day in and day out is challenging, but he knows he can handle it. Huntington University made sure of that. "I think that being a biology major at HU truly helped prepare me for medical school because I feel like I have a great foundation of science knowledge…
Featured Faculty
Collin Hobbs
Dr. F. Collin Hobbs earned his PhD in ecological and evolutionary biology from Indiana University in 2013, and joined the faculty of Huntington University later that year. Prior to his graduate work he received a Bachelor of Science in biology with a minor in music performance from the University of Wisconsin – Eau Claire. His PhD thesis at Indiana University examined the biogeography…