Biology Degree Programs
Biology is the science of life. Sounds simple, right? A nice six-word definition. Yet behind this definition is every living organism on earth, every vital process, and a whole lot of unknowns. That's what is exciting, though: There is always more to discover.
At Huntington University, our Christian liberal arts setting puts us in a unique place to explore every aspect of biology — assessing multiple perspectives, articulating the role of faith in science, advocating good stewardship of natural resources, and more. Our study is as rich as it is rigorous, and our graduates are bringing biology study to life in a variety of careers.
Together, we are breathing life into science.
Bachelor of Arts Degree in Biology
Build a foundation that will prepare you for any career you could imagine.
Take key biology courses:
Botany
Cell Biology
Environmental Resources
Genetics
Introduction to Probability and Statistics
Principles of Chemistry 1-2
Seminar in Biology
Zoology
Then choose electives in biology and other areas to create a customized biology degree that reflects your diverse interests.
Bachelor of Science Degree in Biology
Prepare for work in the industry, research, entrance into professional programs, or graduate school. In-depth biology training in the sciences means you are ready for whatever career move comes next.
Start with key biology, chemistry, and physics courses, then select from a variety of other biology and environmental science courses, including but not limited to:
Advanced Cellular and Molecular Biology
Comparative Embryology
Cognitive Neuroscience
Ecology
General Microbiology
Human Physiology
Pre-Med Specialization
This Bachelor of Science degree emphasis will prepare you for graduate study in any health-related field, from medical practice to optometry to physician assistant studies. Courses in this program of study include electives that are also prerequisites for medical school.
Pre-Veterinary Specialization
The Bachelor of Science degree emphasis benefits from a close connection with our Department of Agriculture and fantastic resources in animal science by combining them with foundational biology studies.
Take courses like
Animal Anatomy and Physiology
Animal Science
Comparative Embryology
Ecology (or Agroecology)
Environmental Resources
Nutrition of Farm Animals
Bachelor of Science Degree in Biology Education
Receive rigorous training in biology and comprehensive experience in education courses, field experiences, and student teaching. When you graduate, you will be licensed to teach grades 5-12 in biology and 5-8 science.
Take science courses like
Botany
Cell Biology
Ecology
Environmental Resources
General Microbiology
Genetics
Human Physiology
Physical Geography
Zoology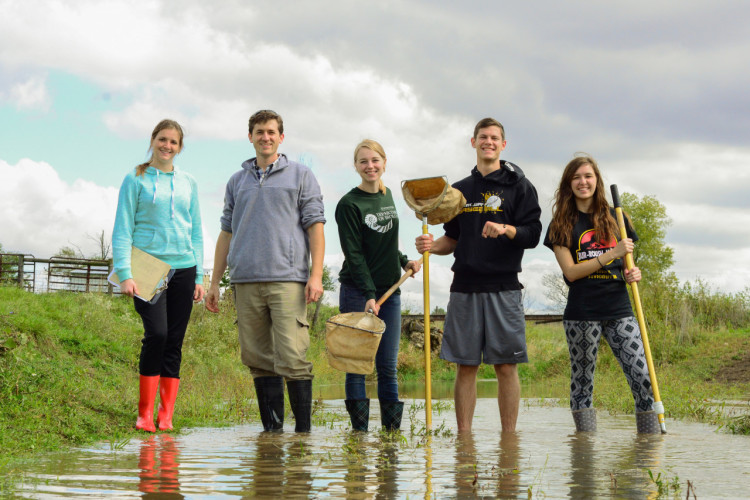 To truly breathe life into science, you need to experience what you are studying in an up-close and personal way. That's why practical learning is built into our curriculum.
Opportunities available to you:
Amazing facilities, including two greenhouses, an Anatomage virtual dissection table, and research and teaching labs with state-of-the-art equipment
Independent or team research projects
Internal funding for summer research opportunities with faculty
Research collaborations with other natural science departments
Class trips to forests, dams, waterways, and more — including our own backyard and HU's Thornhill Nature Preserve, 75 acres only 10 minutes from campus
Internships at regional hospitals, research laboratories, and area schools
Summer courses in environmental science or ecology off campus at the Au Sable Institute for Environmental Studies in Michigan
96%
Huntington University biology graduates have a 96% med school acceptance rate.
35 Acres
Thornhill Nature Preserve, mere miles from campus, contains 35 acres of forest preserve for research and exploration.
20+
Since 2017, more than 20 students have worked with faculty on research projects.
230 Acres
The University owns 230 acres of land for you to study, including woods, two streams, and a lake.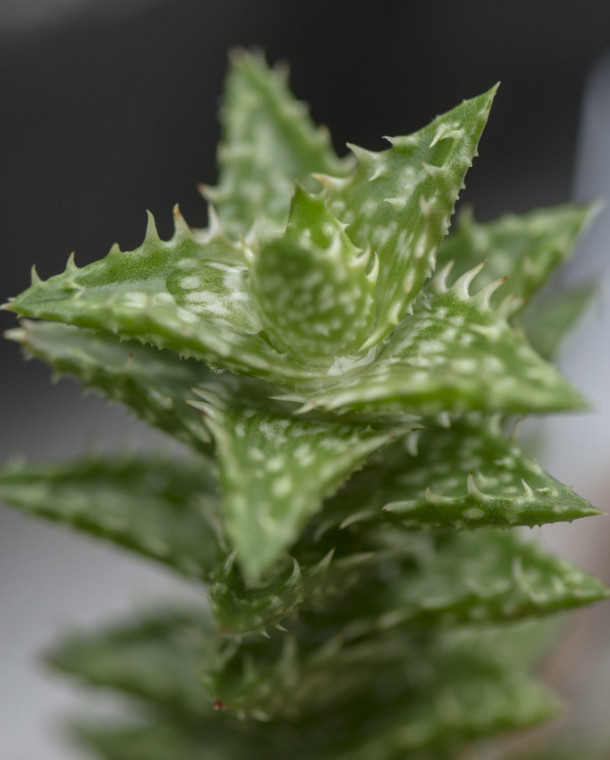 "HU is by far the greatest decision I have made. The biology program is very thorough and taught extremely well. I feel that I will be prepared for my future plans."
~ Mica Allen, Biology (2024)
"One of the most impactful things I did while at HU was get to know professors. From them, I learned how to analyze and challenge the world around me, how to lend a hand and live with empathy, how to advocate for what I believe in, and how to cling to the Truth, even when it isn't found where you expect it."
~ Emily Yarman, PA, Biology Pre-Med (2014)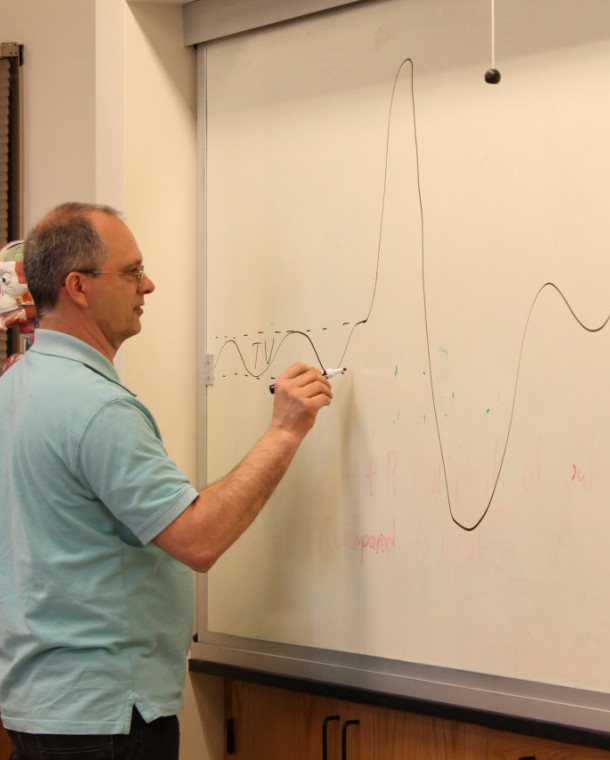 "Always be willing to discard old ideas that have been shown not to be true. It is too easy to hold on to what you have learned when more recent research suggests something else is more likely to be true."
~ Dr. Bruce Evans, Professor of Biology
Interested in Plants?
So are we! That's why we created the Huntington University Horticulture Club! This club strives to be the stewards of God's creation while growing in appreciation for the intricate nature of plants of every kind.
Like Us On Facebook!
Have you heard these myths?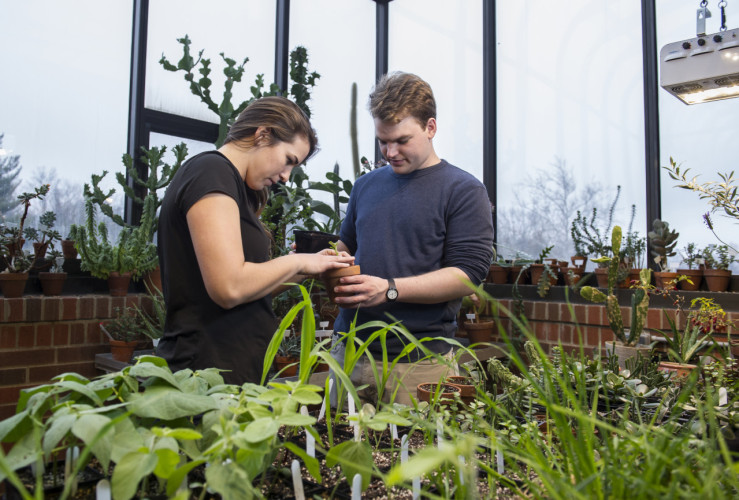 Myth 1: Smaller school size = smaller opportunities.
Truth: At Huntington University, we are perfectly positioned to offer direct access to incredible lab equipment and indoor and outdoor facilities. Our courses are rich in experiential learning, and we offer competitive research and internship opportunities on or off campus, including work with PhD faculty. All of this is possible because of our size and dedication to excellence.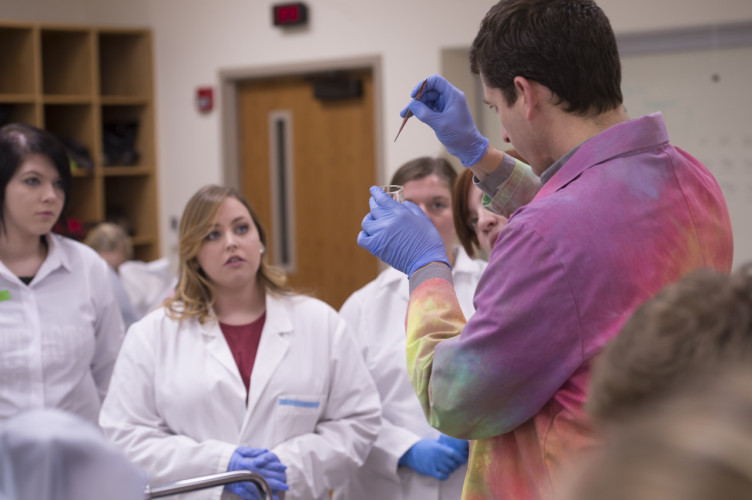 Myth 2: There is only one path to med school.
Truth: You will need to meet certain prerequisites for graduate school, but you can obtain those in a variety of programs, even within the Department of Biology. Interested in environmental science? Want to incorporate some agriculture classes? Go for it! Dedication to and passion for your chosen program goes a long way in grad school interviews.
The Bordeaux-Howald Research and Instrument Fund
Our magnificent Dowden Science Hall facility is about to celebrate its 20th anniversary of use. Several of the instruments used in Brenn Hall were carried over into the new building, and a generous budget allowed for the purchase of some higher-priced instruments such as the mass spectrometer and the cryogenic nuclear magnetic resonance spectrometer. The NMR was purchased used, and is now over 25 years old. Aging instruments need to be replaced, but costs can be prohibitive.

To this end, Professor Emeritus Dr. Bill Bordeaux has begun a fund which the department has decided to name in honor of his career devoted to HU from 1987 to 2012, as well as the career of the late Professor Jim Howald, who from 1961 to 1995 began to establish the variety of instruments that Huntington University has today. The funds will accumulate and finance student research projects that are not otherwise funded or large-ticket instrument purchases as needed. The Bordeaux-Howald Research and Instrument Fund will be used to ensure good experiences for our students in the areas of instrumentation and research in the Huntington University Department of Chemistry.
Make a Contribution