Expand Your Degree Options
The Institute for TESOL Studies offers programs to help students expand their minds and their career options. A wide variety of professionals and students of various majors find relevancy in having TESOL/EL training. Individuals working in education, missions, ministry, social work, international business, and numerous other fields benefit from earning their TESOL Certificate or state certification in teaching ELs (English Learners). As a result, ITS courses are typically evening classes that take place once a week, making it possible for traditional undergraduate students, as well as working adults, to earn their certification.

For public school educators or students majoring in education, ITS offers state certification in teaching ELs. This is the nomenclature used by the state of Indiana for ELs enrolled in public education. The certification in teaching ELs, approved by Indiana's Department of Education, is an excellent complement to a professional teacher's licensure.
What is TESOL?
TESOL stands for Teaching English to Speakers of Other Languages, and is the general nomenclature used in this field. More specifically, the TESOL Certificate equips students and professionals for overseas English teaching, community-based English instruction in the U.S., and church and non-profit outreach to refugees, immigrants, and U.S.-born ELs. In short, the TESOL Certificate is for anyone who is not a licensed public school educator in the U.S., but who works with English language learners overseas or in a native-English speaking country.
For more information, contact Shoshannah Hernandez at (260) 359-4296.
Are you an adult student interested in taking non-traditional TESOL classes? If so, click here.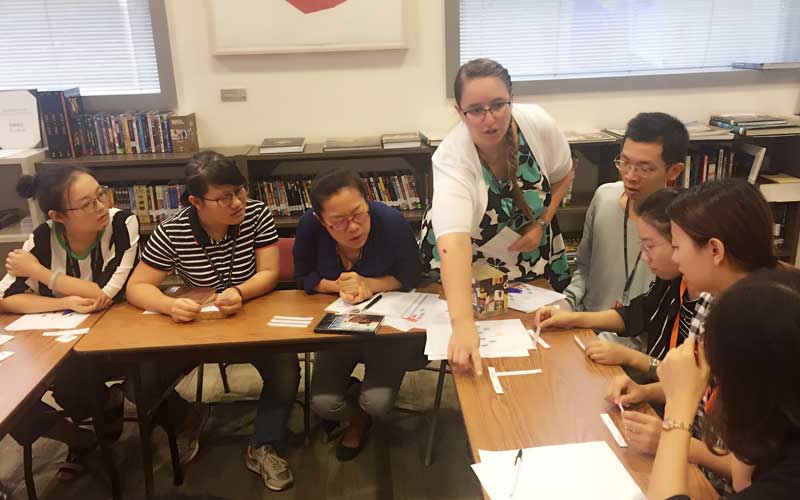 Huntington University announced that the U.S. Department of State has selected Shushan Richardson for a 10-month English Language Fellow project, training English teachers abroad. Richardson will be spending the year at South China Normal University in China.
Richardson graduated from Huntington University in 2016 with a master's in education in Teaching English to Speakers of Other Languages (TESOL). She is among only 140 U.S. citizens selected for the 2017-2018 English Language…
Featured Alum
CheaRi Lee
What started out as a part-time job teaching the English language eventually led junior CheaRi Lee to continue pursuing her education in TESOL. "My parents' friends asked me to teach their children English," said Lee, an accounting major from Korea who will graduate in 2013. "I had my own techniques and strategies, but I knew taking more classes would help me learn how to teach students…
Featured Faculty
Luke Fetters
Dr. Luke Fetters is the director of the Institute for TESOL Studies. From 1987 until 1997, Fetters served as the director of the English Language Program, a conversational English program for adults in Macau, China.