Hoosier Grown
The Agricultural Studies Program wouldn't exist without Hoosier Grown.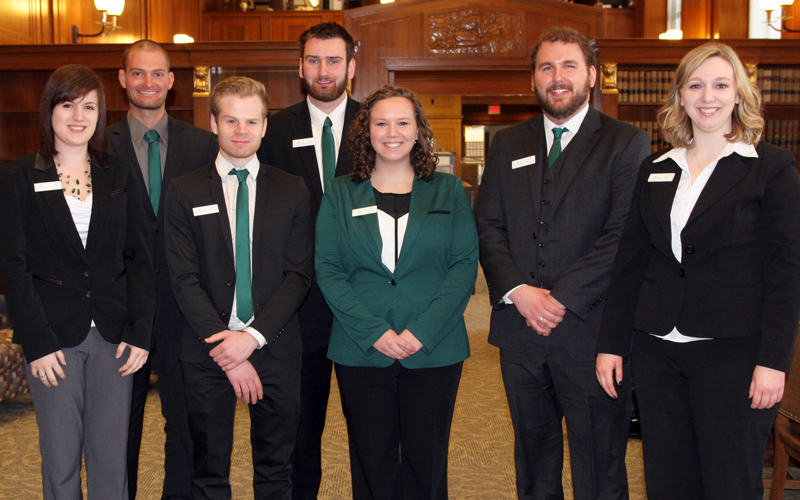 A team of seven students and one faculty advisor created an ag campaign that evolved into something long-lasting and life-changing.
It all began with a phone call. Indiana Lt. Gov. Sue Ellspermann contacted Huntington University's President Sherilyn Emberton about a marketing plan competition called "Promoting the Good Works of Indiana Agriculture." The purpose of the contest was to engage college students in designing a strategy to cultivate interest and enthusiasm for agriculture among 18- to 35-year-olds.
"I initially told the lieutenant governor 'no' because Huntington University doesn't have an agricultural program," Emberton said. "She wouldn't take 'no' for an answer, though."
That was in November. On March 7, 2014, Ellspermann called the president again — this time to tell her that the Huntington team had made it into the finals for the competition.
Out of the 30 teams and 17 colleges and universities represented, HU was selected as a top-three team to present a campaign proposal to a panel of seven judges on March 24, along with the University of Indianapolis and the University of Southern Indiana. That afternoon, Ellspermann announced Huntington University as the winner of the competition and a $25,000 cash prize with its "Hoosier Grown" campaign.
From the arts to the liberal arts to business, the Huntington students pulled from a broad range of knowledge and skill sets to design a creative, compelling campaign.
The Hoosier Grown team included: Micah Christensen, a senior public relations major from Winamac, Ind.; TJ Clounie, a sophomore film production major from Huntington, Ind.; Dane Drew, a senior in the Professional Programs majoring in business administration and marketing from Columbia City, Ind.; Hannah Hochstetler, a senior graphic design major from Goshen, Ind.; Matt Nelson, a senior animation major from Granger, Ind.; Ayla Yeiter, a sophomore biology pre-med major from Roanoke, Ind.; and Dr. Ann McPherren, faculty adviser.
The team's extensive collateral materials set them apart from the competition — from film projects to a website to social media. In addition, they provided analytics to prove that the social media accounts were reaching the target audience.
So what happened next? Huntington University launched the Agricultural Studies Program using the framework created during the Hoosier Grown campaign, the institute admitted its first students in the fall of 2015, and the rest is - as they say - history!
Though the "Hoosier Grown" name and logo have now melted into the Hoosier Grown history, their legacy lives on in the Agricultural Studies Program and its students.