Chemistry
The average HU chemistry major will spend over 400 hours working in the lab.
Huntington University provides an excellent education both in the lab and beyond. Other schools can give you the same basic skills, but only a Christian liberal arts institution like Huntington University intentionally seeks to help you understand your purpose. We integrate faith into every aspect of our teaching so that you can glorify God in every aspect of your life.
Getting to the heart of matter enables you to pursue both a life of faith and a career in science. With a degree in chemistry, you'll have ample opportunities to work and serve in fields ranging from nanotechnology to medicine.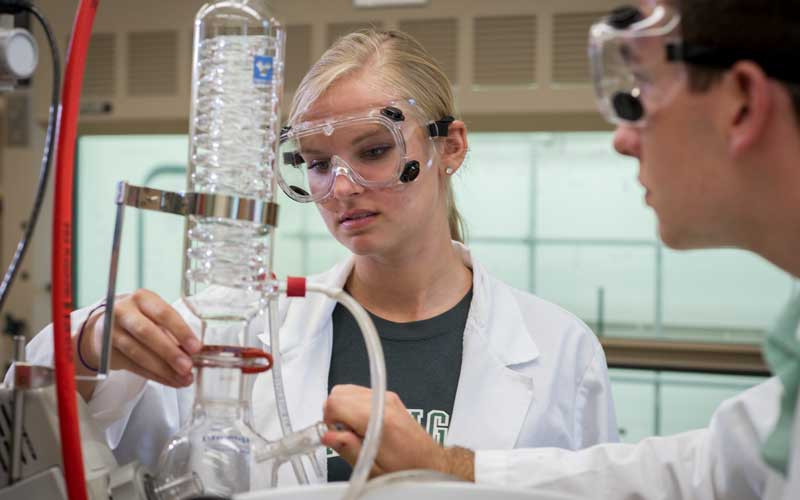 Bachelor of Arts in chemistry
Ideal for anyone who wants the true liberal arts experience
With fewer upper-level chemistry courses or a research components, you'll have time to take courses in other areas that diversify your resume
Bachelor of Science in chemistry – professional or biochemistry track
Ideal for anyone who wants to go to grad school or pursue a professional career in chemistry research
The most comprehensive chemistry program we offer, this degree combines courses in inorganic chemistry, organic chemistry, analytical chemistry, physical chemistry, biochemistry, and a research component
78% of HU chemistry students complete a major undergraduate research project with one of our PhD faculty or through competitive opportunities off campus
Professional Track
Chemistry professionals work in a variety of industries all over the world. With a strong background in chemistry and research, you'll be ready to specialize in your chosen industry or pursue graduate study.
Biochemistry Track
Biochemistry is one of the fastest-changing fields of chemistry, with new medicine-related discoveries each year. Biochemists work with proteins, DNA, the design and function of new drugs, and much more. Students in the biochemistry track may pursue graduate school and research, med school or health professions, or a career in industry.