A Foundation Built on Tomorrow
Computer science is a fast-growing and rapidly-changing field. At Huntington, you will receive a solid foundation in the fundamentals of computer science, plus the flexibility to explore the latest innovations in technology and programming.
As a student, you will learn multiple industry-standard programming languages and development tools including the latest virtualization software. You will have access to a research lab with Windows and Unix-like servers, dual-screen work stations, and two racks of networking equipment. You also will have the opportunity to specialize your degree with four different program tracks.
In our degree programs, you'll gain skills for today and adaptability for tomorrow.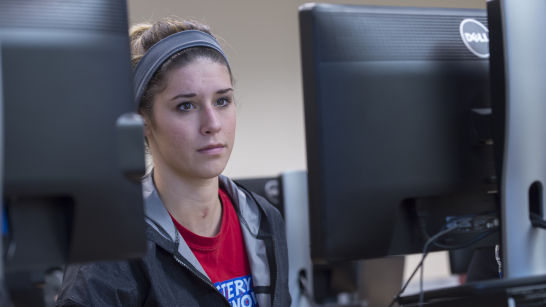 Real-World Experiences
As a computer science student, you will gain real-world experience through a one-year group software development project. Students are strongly encouraged to complete internships (available through our Enterprise Resource Center) and independent research studies to further explore their specialized interests.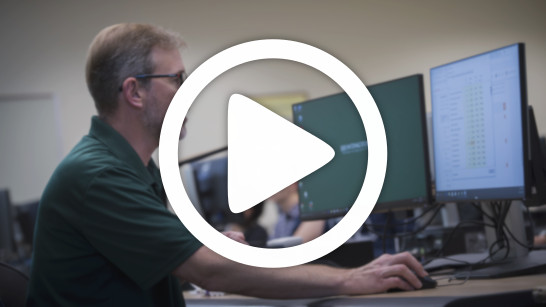 Learning at the Speed of Success
As a computer science student at Huntington University, you'll be part of a program that is growing at the speed of technology. At Huntington, you'll gain the analytical skills, hands-on experience, and technological savvy needed for success in the modern workplace. Your studies will prepare you for a wide variety of careers requiring problem solving, logical reasoning, and the application of current technologies. Check out the video for a preview!
Choose Your Track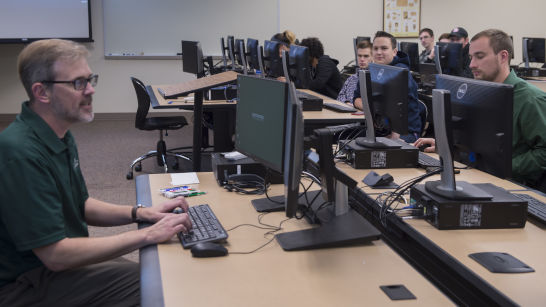 Find what best suits you:
The information systems track is a more traditional track. It's best suited for students who are interested in the general field of computer science.
The math track will focus more on math and computer programming. It is best suited for students who are interested in applying math to careers in computers or industry.
The digital media track is specifically designed for students interested in the digital media arts programs such as animation or film production. This is a good track for double majors.
The web development track is for students interested in web design and development.
One-on-One Attention
At Huntington, you will receive the individual attention normally associated with a small liberal arts college combined with the educational opportunities and research-active faculty normally found only at major universities.
Huntington University's Department of Mathematics and Computer Science offers both the Bachelor of Arts and Bachelor of Science degrees. As a computer science student, you will study alongside others in our mathematics and math education programs.