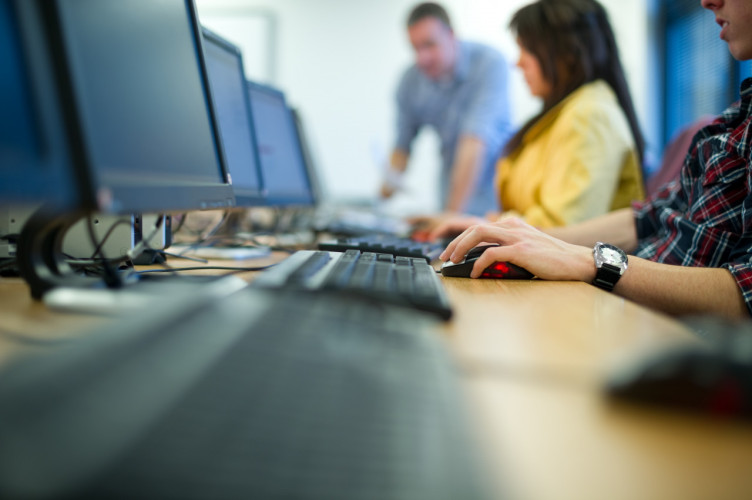 CYBERSECURITY MINOR
Keep Technology Secure
Cybersecurity is a complex field that requires a strong understanding of computer science, networking, and security principles. Completing a cyber security minor from HU can make a real difference in the world by helping protect organizations and individuals from cyber-attacks. Combining your interest in technology and the law, this program perfectly complements other programs offered at Huntington University such as computer science, criminal justice, or forensic accounting. If you're looking for an on-ramp to a career in cybersecurity, this is the program for you.
EXPERIENTIAL LEARNING
Earn practicum hours and complete lab scenarios using industry-level training resources from TestOut.
FAITH-BASED
Integrate faith and technology as you explore issues in ethics, Christian values, and faith-informed security measures.
FOUNDATIONAL STUDIES
Enhance your related major in computer science or criminal justice with a focus in cybersecurity.
CERTIFICATIONS
Students may earn TestOut Pro Certifications as part of their coursework in the cyber security minor.
WHAT WILL I STUDY?
Cybersecurity Curriculum
The cyber security minor at Huntington University can be combined with any major, but pairs especially well with computer science, business, and criminal justice majors. Courses will involve a hands-on component that allow you to earn entry-level certifications, building a foundational set of resume skills to obtain a first job position.
To provide real-world experience, you will complete lab scenarios using industry-level training resources from TestOut, as well as practicum hours.
This program requires a mathematics placement at the "A" level in order to participate.
Criminology
Introduction to Computer Science
Software Development
Introduction to Cybersecurity Management
Web Scripting
Operating Systems and Cloud Computing
Database Management Systems
Dedicated Faculty and Staff
You May Also Be Interested In