The Visual Arts Department is a growing and dynamic department that offers unique programs of study that encourage students to integrate their Christian faith as they develop their individual talents and engage contemporary art issues. Our mission is to prepare our students to be professional artists who engage in our visual culture.
Each of the visual arts majors is based on contemporary and traditional foundational studies, providing a broad range of experiences in processes of seeing, creating, and thinking. There is an equal emphasis placed on the development of formal, conceptual, and critical knowledge in design, drawing, painting, photography, computer media, ceramics, and sculpture. Students develop their awareness and understanding of the historical context of art and contemporary issues through studies in art history.
Our students are taught to be creative problem solvers with a thoughtful, responsible, and open mind, capable of generating multiple solutions to contemporary visual challenges. We believe it is essential that students learn to make art that is relevant to our visual culture, seeks out beauty, celebrates individuality, and engages in the community.
Visual arts majors may pursue degrees in
Minor concentrations are also available in graphic design and fine arts. In addition, the Digital Media Arts department offers degrees in animation, film production and film studies.
The program is diversified through visiting artists, on-campus gallery exhibits, and field trips that expose students to cultural resources throughout the Midwest, including Chicago, Cincinnati, Indianapolis, and Toledo. The Art Department also sponsors international art-study trips during the January Term on a biannual basis.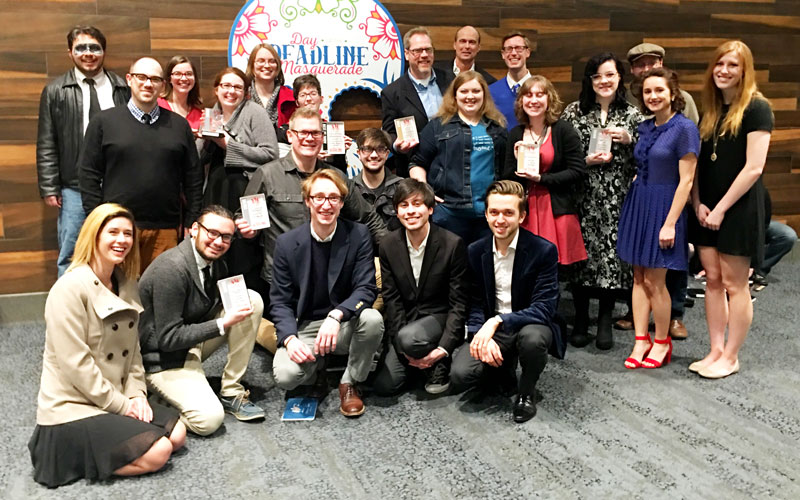 The American Advertising Federation of Fort Wayne acknowledged Huntington University's School of the Arts with 16 awards at its annual Fort Wayne Advertising Honors event on February 25. The competition recognizes advertising creative excellence from students and area advertising and media professionals. Entries are judged on creativity, originality and creative strategy. Work entered at the local level can become eligible for regional and national judging. HU students and faculty took…
Featured Alum
Joel Dirnberger
It was a cold, snowy day — not unlike many other days in South Dakota. But Joel Dirnberger saw something that day. He saw the frost hanging off of the bark of a tree against the white canvas of snow. He saw a piece of art. Dirnberger is a graphic design major and a 2013 graduate at Huntington University. As a sophomore, he was recognized for his photograph of the tree in the 31st Annual…
Featured Faculty
Melissa Duffer
Melissa Duffer is a cum laude graduate of Baylor University with a degree in music education where she was named Outstanding Senior Woman in the School of Music. Following graduation, Melissa moved to New York City and completed training in musical theatre at the American Musical and Dramatic Academy.