Visa and Travel
The U.S. State Department is the government agency that issues or denies your visa. Its facilities are commonly known as "embassies" or "consulates." Students can apply for F-1 visas at any time. However, the State Department will only start to issue visas 120 days prior to the first day of your academic program. International students will be able to enter the United States no more than 30 days prior to the beginning of the academic program.
In order to get an F-1 visa before traveling to the United States, you must:
Obtain the SEVIS I-20 form from Huntington University. You will receive this form by mail from Huntington University once you have satisfied all requirements for eligibility.
Pay the SEVIS fee prior to the visa interview at the U.S. Embassy in your country. Your I-20 form is required to complete Form I-901, after which you will receive a receipt or Form I-797C. Please note that the pament process requires the use of a credit card. For more information, visit the ICE I-901 page.
Prepare the following for your interview:

All appropriate forms as required by your country
A passport valid for at least the next six months
Your I-20 form signed by Huntington University
Your receipt of payment of the I-901 fee
Your Huntington University acceptance letter
Evidence of financial support
A statement of intent to return to your home country after your studies

Provide current photographs for your F-1 visa
Pay the "Machine-Readable Visa" fee
For additional information regarding this topic, you can visit Education USA or travel.state.gov.
Ten Tips for a Successful Visa Interview
Prove ties to, and reasons to return to, your home country
Practice speaking English prior to the interview
Speak confidently for yourself
Plan ahead and be brief — you only have a short time to make a good impression
Familiarize yourself with Huntington University and know exactly why you want to attend Huntington University in particular
Prepare and organize your documents
Know your home country's visa regulations
Have a positive attitude
Answer questions about family and dependents
If you are denied, do not argue or ask what you should do differently next time
Travelling to the United States
A student's F-1 visa status does not guarantee he or she will be allowed to enter the United States. Officers from the Department of Homeland Security (DHS) at the ports of entry have complete authority to deny your application. Upon your arrival at a U.S. airport, you will be taken to see a DHS officer to whom you must present the following documents:
A valid passport
Your F-1 visa
Your SEVIS I-20 Form
Your I-94 Form
If you are allowed to enter the United States, a DHS officer will return all of your documents. In addition, the I-20 and I-94 forms will be stamped by the officer, and an expiration date will be noted as "D/S," or "Duration of Status."
The Office of Biometric Identity Management
US Immigration authorities established the Office of Biometric Identity Management (OBIM) which electronically photographs and fingerprints foreign travelers who arrive in the US with visas. Please visit the DHS website for more information.
Bringing Family Members to the United States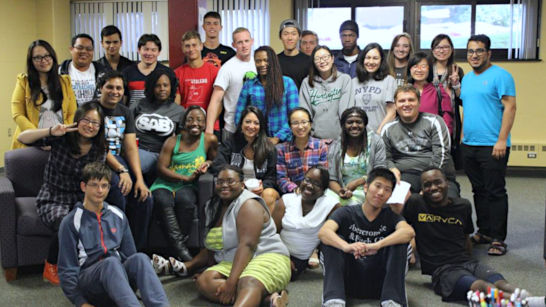 Your spouse and children may come with you to the United States as your dependants with an F-2 status. Your family should accompany you to the U.S. embassy or consulate when you apply for your F-1 student visa, and they should be prepared to prove their relationship to you. The F-2 status of your family will be dependent on your status as an F-1 academic student, meaning that if you change your visa status, your family must also change their status. If you lose your status, your family will also lose their status. F-2 dependants are issued a SEVIS I-20 form stipulating their F-2 status. In addition, F-2s cannot attend colleges and universities unless they request and are granted a change of status to F-1.