The Department of Theatre Arts seeks to cultivate passionate, creative, and effective communicators in order to challenge others to thoughtful examination of ideas, cultures, and values.
Real-World Skills
Students majoring in theatre arts will develop technical and artistic skills while engaging in critical thinking that reflects the historical foundations of the discipline as well as more current advances in theatrical training. Through traditional classroom instruction and collaborative production experience, students will enhance their abilities of observation, analysis, design, performance and artistry in order to better prepare themselves for their careers and lives beyond undergraduate training. Integration of faith is paramount as students learn to embrace a deeper understanding of their own humanity and the world at large.
Real-World Experiences
Majors will have the opportunity to develop their talents on stage and off through participation in our mainstage and lab seasons. Our students are challenged as they train with knowledgeable and experienced faculty and guest artists to create an entertaining, thought-provoking and diverse season of plays, musicals, student directed one-acts and studio productions. Theatre majors are also highly encouraged to participate in regional collegiate competitions as well as audition/interview for summer internships and professional summer stock companies.
Degree Options
The Department of Theatre Arts offers degree programs in General Theatre, Performance, and Design/Technology. All are broad-based majors designed to provide each student with a strong foundation for a career in theatre or continued training such as graduate programs, internships, or other related fields of study.
Whether you are interested in theatre performance or in our design and technical program, you will have the opportunity to cultivate and enhance your skills and talents while we relieve some of the financial burden.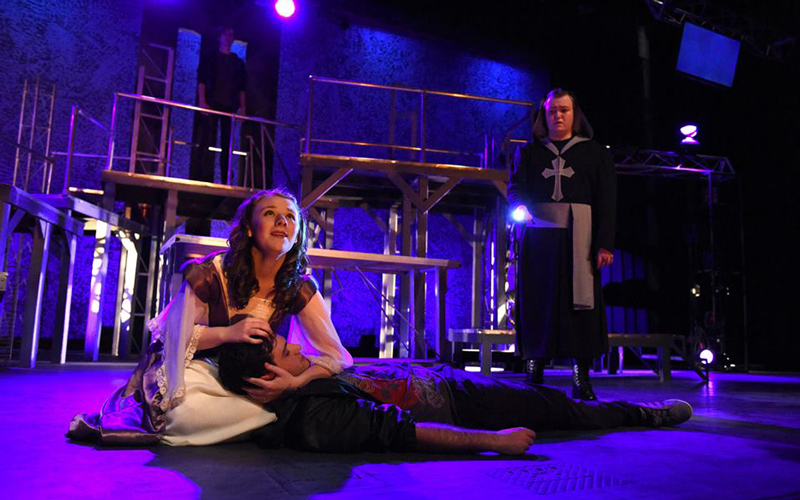 Huntington University's theatre department has been named as an honorable mention on "The 10 Most Underrated Theatre Colleges: Mid-West" by OnStage. "This is such an honor for our department to be mentioned in the article," said Jay Duffer, associate professor of theatre arts. "Of all the schools mentioned, we are among the smaller size departments. So, to get this type of recognition means the high quality of our productions and the consistent level of...
Featured Alum
Josh Scott
The transition from stage to window displays may seem like an unusual one, but for Josh Scott, the same skills apply. Josh, a 2005 graduate, worked as a merchandiser and visual design specialist with Vera Bradley, a leading manufacturer of handbags, travel bags and accessories. In his position, he trained retailers on design and display techniques to boost sales and best showcase merchandise in...
Featured Faculty
Thom Hofrichter
Thom HofrichterAdjunct Professor of Theatre History, Guest Director Red Spring 2014Thom Hofrichter received his BA in Theater from the University of Nevada, Las Vegas, and his MA in Theater from Marquette University in Milwaukee, WI. .