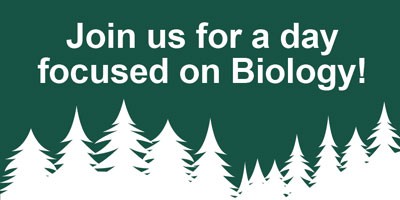 Glimpses into the molecular basis for life have caused biology to grow in scope in recent years, and opportunities in this field are also growing.
Providing knowledge that students will need about biology in the 21st century is a goal for the biology department.
Distinct Advantages
Biology prepares students for entrance into professional schools, such as medicine, dentistry or optometry; entrance into graduate school in biological fields; teaching careers in middle and secondary schools; and research and application of biology in industry positions.
Degree Options
The biology department offers a variety of bachelor's degree programs. Students majoring in biology may complete the professional major leading to a Bachelor of Science degree; the biology teaching program leading to a Bachelor of Science degree; or the liberal arts major in biology leading to a Bachelor of Arts degree. Huntington University also has a very strong pre-med program. You also have the option of pursuing a minor in environmental science and/or nutrition.
Interested in exploring all your options at Huntington University, meeting the Biology faculty, and seeing the facilities in person? Schedule a visit!
Three Huntington University biology students and two faculty members took part in poster presentations during the 131st Annual Meeting of the Indiana Academy of Science. The event took place on March 26 in Indianapolis.
Meghan Wright, a freshman biology pre-med major from Fowlerville, Mich., presented on, "Biodiversity of the Huntington University arboretum compared to a local natural forest." Her research, conducted with Dr. Collin Hobbs, assistant professor of biology, involved…
Featured Alum
Emily Yarman
To say that Emily Yarman flourished at HU is an understatement. After finding her place in the biology department, the Ashland, Ohio, native juggled her time between class, labs, work and campus involvement. She was intentional in her studies and unafraid to approach her professors with questions. "One of the most impactful things I did while at HU was get to know professors," she said.…
Featured Faculty
Paul Nalliah
Paul Nalliah came to Huntington University in February of 1996 when he took responsibility for the hardware and software that runs the University's administrative system that supports all offices in the University.