Worship Leadership
Made to Worship the Creator
God calls all Christians to worship Him. He calls worship leaders to serve others by pointing them back to Him.
As a worship leadership major at Huntington University, you will develop an understanding of true worship from a biblical and theological base — to worship in spirit and in truth. Our program is comprehensive, exploring traditional, contemporary, and emerging worship styles.
Our degree program offers a unique combination of ministry leadership preparation and specialized skill development in music and multimedia. Simply choose whether you want to follow the guitar or the piano track, and you are ready to get started!
Lead before you even graduate.
You'll want to look for places where you can use your skills and implement new ideas. We will help you get plugged into a place of service where you can do just that. We also provide engaging seminars on a regular basis, outside of the curriculum, to enhance your education experience and encourage you to pursue lifelong learning.
The highlight of your experience at Huntington University will be the summer and fall of your senior year when you immerse yourself full-time in worship leadership through a Practical Research and Immersion for Ministry Effectiveness (PRIME) Experience.
This seven-month internship, designed specifically for your goals, will prepare you for life beyond graduation in a unique way.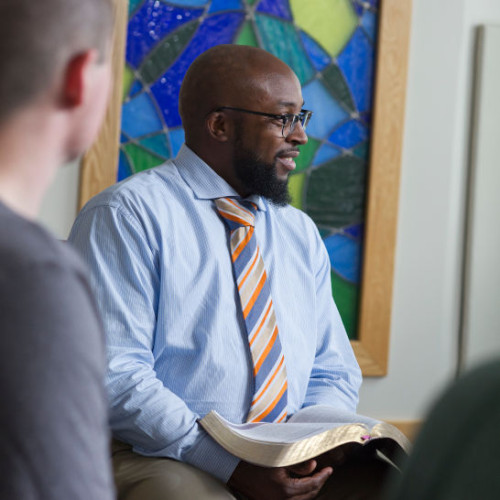 Not sure if a full-fledged worship leadership major is right for you?
Huntington University also offers a worship studies minor. The worship studies minor is designed for students interested in forming a theological and philosophical foundation for Christian worship. The background and perspective gained through a worship studies minor would be valuable as a secondary focus for the ministry student or for the student who wishes to serve as a lay leader in the church.
Unlike the worship leadership major, the worship studies minor does not have any focus on performance skills. This minor could be a complement to any of the ministry majors, the Bachelor of Arts in Music, or for the student who is preparing for pastoral ministry with a Bible and Religion major. The 24-credit worship studies minor includes a four-course worship studies core, a four-course ministry studies core, and one Bible and religion course.