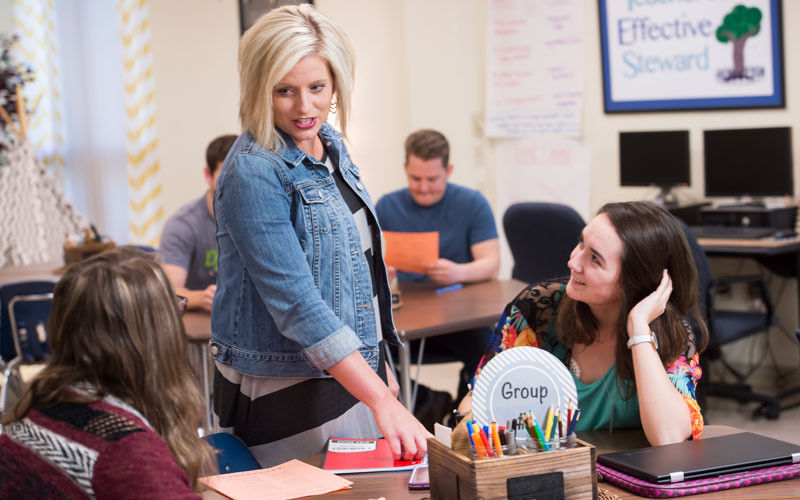 ELEMENTARY EDUCATION MAJOR
Shaping the young minds of tomorrow, today.
If you desire to become an effective elementary teacher, Huntington University has various program options for you. With thoughtful and invested faculty and staff in the department, you will not only learn how to excel as an educator—you will learn how to steward your gift of shaping the precious young minds of your students and leave an impact for Christ. Whether you choose to participate in the Elementary-Dual Licensure Program or select a concentration, you will gain wide exposure to teaching different grade levels, as well as various styles of teaching and learning.
A PEEK INSIDE THE REQUIREMENTS
Elementary Education Curriculum
As an elementary education major at Huntington University, you will gain hands-on, practical experiences on a regular basis. From practicums to student teaching, the classroom experience will be familiar to you. HU also offers various dual licenses, allowing elementary education students to add special education, middle school education, and teaching English learners.
For those not completing a dual licensure program, the State of Indiana requires you to complete an additional content concentration in Language Arts, Math, Science, Social Studies, or Fine Arts.
Education Psychology
Early Childhood Literacy Development
Reading Methods & Materials
Fundamentals of Reading
Diagnostic & Corrective Reading
Assessment Strategies for Elementary Educators
Integration of Technology in the Classroom
Managing the Learning Environment
Topics & Problems in Education
Dedicated Faculty and Staff
You May Also Be Interested In