Spirit of a Forester Scholarship Competition
Join us on our home campus Saturday, February 18, 2023 for the Spirit of a Forester Scholarship Competition. This invitation-only competition is for students with a 3.7 or higher GPA.
The Spirit of a Forester Scholarship Competition will take place on Saturday morning and will include an interview and extemporaneous essay competition.
Competitors will be invited to stay for Admitted Student Weekend which begins on Saturday afternoon and is an overnight event concluding on Sunday at lunchtime.
Questions? Email admissions@huntington.edu.
A Huntington University Forester…
Chases truth. Because all truth is God's truth, Foresters relentlessly pursue it. They seek to glorify their Creator by caring for every tree, stone, and being in His creation and to be "ministers of reconciliation" (2 Cor. 5:18) who see creation's redemptive potential. (John 8:32)
Defies complacency. Foresters never stop trying to improve themselves or the world around them. Failures will happen, but Foresters will use mistakes as growth opportunities. (Romans 8:28)
Remains curious. College is a fundamental time in education, but a Forester will seek new opportunities to learn long after graduation. (Proverbs 4: 6-7)
Cares completely. Foresters are dedicated to service, caring for others both willingly and joyfully. They also care about forming relationships within the Forester Nation and nurturing new generations of Foresters. As foresters care for plants in every stage of the life cycle, from seedling to mature tree to acorn, so Foresters get involved in others' growth through prayer, interpersonal relationships, and giving back to the University. (Romans 12:10)
Embraces interconnectedness. In a forest, tree roots intertwine and make the ground stronger. Foresters realize that any pursuit – art, literature, math, science, history, etc. – is stronger in community. For Foresters, that community is an authentic space where hard conversations are welcome, opinions are respected, and brotherly love is genuine. A Forester seeks experiences across disciplines and with others, and that interconnectedness becomes a Forester's strength. (John 15:5)
Has grit. Like a forester in the wood contending with dirt and branches and leaves, a Forester doesn't back down from making a difference just because it's going to get messy. Foresters answer the call to serve. (Isaiah 41:10)
Explores creativity. Foresters push the boundaries of their art. Not every Forester wields a paint brush or camera, but all Foresters seek innovations, new perspectives, and inventive solutions that propel their disciplines forward. (Colossians 3:23-24)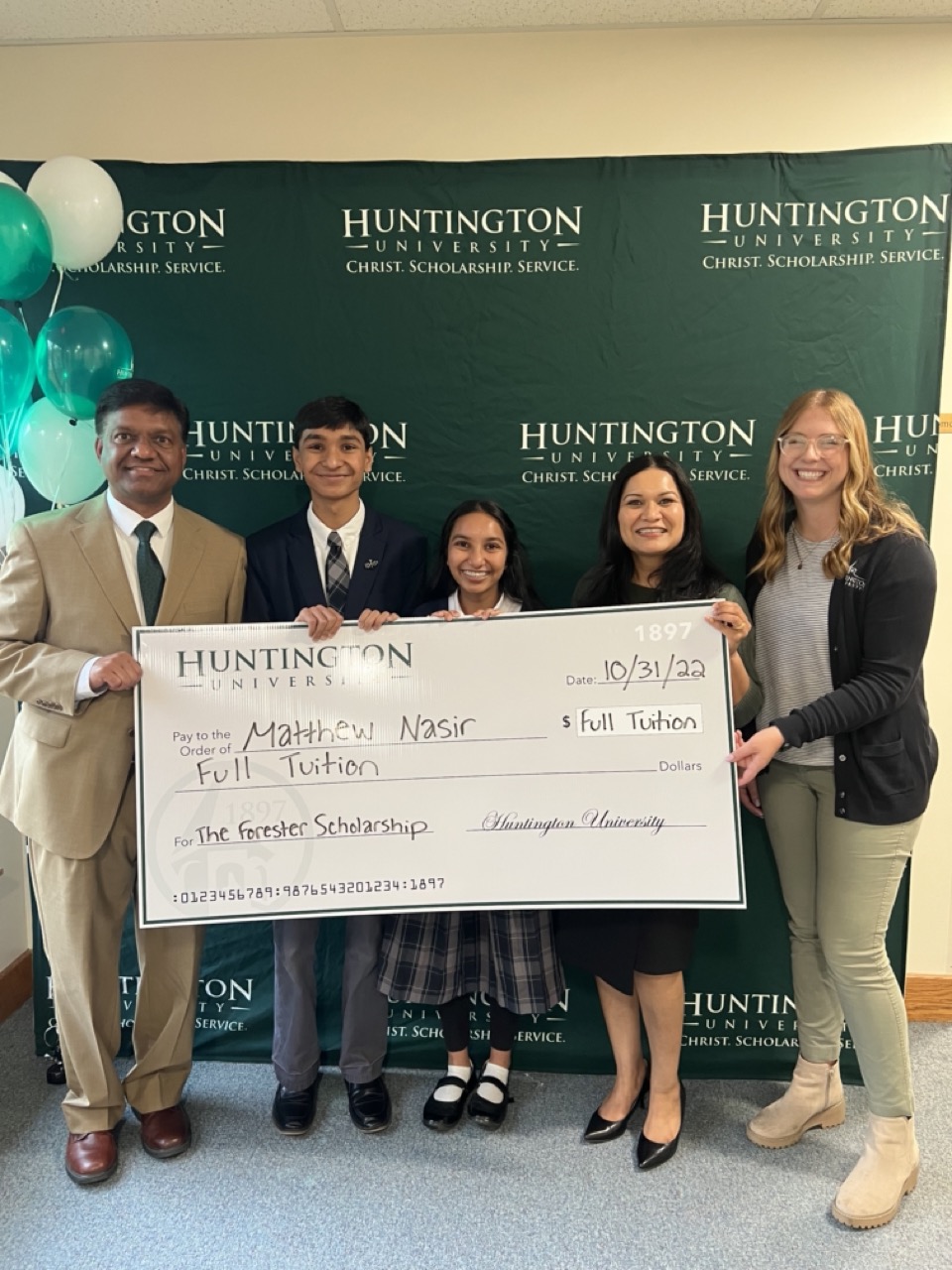 On October 21-22, Huntington University hosted its first Spirit of a Forester Scholarship Competition. The competition awarded scholarships ranging from full tuition to $16,000. The recipient of the full tuition scholarship is Matthew Nasir from Elletsville, Indiana. Nasier plans to study history and political science with a focus on pre-law.
Additional scholarship recipients include the following:
Kelby Roberts, Falmouth, Indiana

Hannah Everett, Cave Creek, Arizona

Jayda Gregory, South Whitley, Indiana

Ella Hudspeath, Wauseon, Ohio

Maxwell Taylor, Cincinnati, Ohio

Elizabeth Kamphausen, Crawfordsville, Indiana

Rebekah Johnson, Fort Wayne, Indiana

Mary Behrens, Barryton, Michigan

Jianna Simons, Doylestown, Pennsylvania

Victoria Chambers, Arcadia, Indiana

Adria Ruberg, Marion, Indiana

Alyssa Allen, Shirley, Indiana

Ephraim Podgorski, Michigan City, Indiana

Eliza Byrum, Kokomo, Indiana

Emme Grisez, Peru, Indiana

Anna Calhoun, Berne, Indiana

Teegan Acres, Fishers, Indiana

Julia Hammel, Columbia City, Indiana

Miriam Kline, Avilla, Indiana
Congratulations to all!